Warnung - Meldung vom 15.07.2021
Office365 Phishing-Welle
RUB users have received a phishing email that refers to current changes of Office365 services. In the next days there will be changes on RUB-Office365 services and maybe, you got some official notification. So, please beware of these fake emails.
The current email is easily recognizable as phishing (see markings). Please keep in mind that the type, presentation and content of phishing mails can change continuously. Please also note our recommendations for recognizing fake emails below.
Phishing email: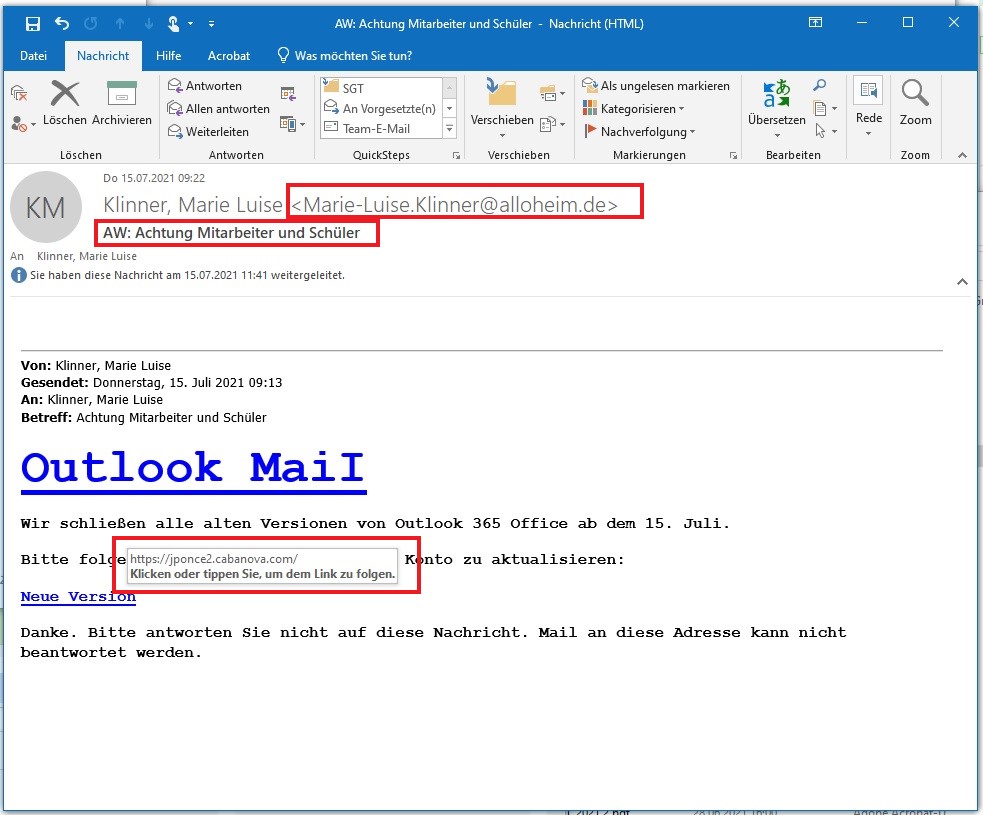 You should keep in mind
Don't follow links to fake RUB Webmail or Outlook-Webapp. Don't enter your credentials. Always check the web address (URL): the right one for RUB-Webmail is
https://webmail.ruhr-uni-bochum.de

The right one for Outlook Web Access (OWA) is
https://mail.exchange.ruhr-uni-bochum.de/owa/
Take your time before clicking on the link oder opening an attachement: Do you know the sender? Do you expect a document from the sender? Do the subject and content make sense? Does the link point to a meaningful or known address? If in doubt, enter the address you know manually rather than following a link.
Please also note our hints Phishing erkennen and the videos of the NoPhish project "Gefährliche Anhänge erkennen" and "Gefährliche Links erkennen" (Themenseite zu gefälschten E-Mails).